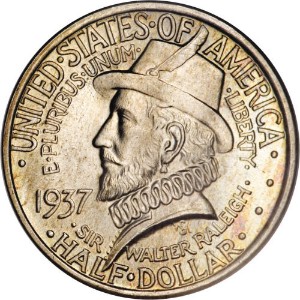 The Raleigh Money Expo run by the Raleigh Coin Club heads up North Carolina's June, 2019 coin show calendar. The show runs from Friday, June 7th through Sunday, June 9th. It will be held at the NC State Fairgrounds – Exposition Center, 1025 Blue Ridge Rd. Raleigh, North Carolina 27607.

– Fri: 10:00 am – 6:00 pm
– Sat: 10:00 am – 6:30 pm
– Sun: 10:00 am – 3:00 pm

Everything from ancients to modern + bullion + supplies + numismatic literature + stamps + postal history.
Free admission and free parking.
Educational seminars on Friday and Saturday.
Large "YN Zone" with games, activities and free coins for young collectors.
Large educational exhibit area.
Pan for gold with the historic Reed Gold Mine
Contact: Paul Landsberg. 919-247-1982.
---
The 1st Annual Triad Coin Club Show is set for Jun. 15th, 2019. Come check out their very first show at the Spring Hill United Methodist Church, 240 Spring Hill Church Road, High Point, North Carolina 27262. The show is one day only on June 15, 2019. Show hours are 10:00 AM – 5:00 PM. Free Admission.
Contact: Robert Ward 336-862-0862.
---
Carolina Coin & Stamp Show will once again take place at the Cabarrus Arena & Events Center, 4751 Highway 49 North, Concord, North Carolina 28025
The dates are set for Thursday, Jun. 20th through Saturday, Jun. 22nd, 2019
Thur 1:00 p.m. – 6:00 p.m.
Fri 10:00 a.m. – 6:00 p.m.
Sat 10:00 a.m. – 4:00 p.m.
Free admission!
Coins, postcards and stamps (U.S., foreign, ancient, gold & silver) will be available.
Dealers will be buying and selling foreign, domestic and ancient currency.
For Show information, contact Dot Hendrick @ 919-828-9450.
Contact: Dot Hendrick
919-828-9450
---

Rare Coins of Raleigh has three upcoming shows this summer – Greenville, Rocky Mount, and Raleigh, NC.
The Greenville show is Jun. 29th – Jun. 30th, 2019. at the American Legion Post 39,403 Saint Andrews Drive, Greenville, North Carolina 27834.Sat 10:00 am – 6:00 pmSun 10:00 am – 4:00 pm.
Their second summer show is being held at the Moose Lodge, 521 Country Club Road, Rocky Mount, North Carolina 27804. Jul. 20th – Jul. 21st, 2019. Sat 10:00 am – 6:00 pm. Sun 10:00 am – 4:00 pm
Show number three takes place at the NC State Fair Grounds, Martin Bldg, 1025 Blue Ridge Blvd, Raleigh, North Carolina 27607. Aug. 17th – Aug. 18th, 2019. Saturday 10:00 am – 6:00 pm. Sunday 10:00 am – 4:00 pm.
All three shows are free admission and provide a variety of numismatic items including rare coins, precious metals, paper money, tokens, coin collecting books, and supplies.
Contact: Shanna Millis
919-790-8544
---
The 12th Annual Buncombe County Coin Club Annual Show will take place Aug. 10th – Aug. 11th, 2019 at the Western Carolina Agricultural Center – Virginia Boone Building, Airport Road – Gate 5, Fletcher, North Carolina 28732.
40 tables. Free parking. Free admission. Saturday, August 10th, 10 am – 5 pm; Sunday, August 11th, 10 am – 3 pm
Contact: Roger Gumm

The Iredell-Statesville Annual Coin Show will take place Aug. 10th – Aug. 11th, 2019 at the Statesville Civic Center, 300 South Center Street, Statesville, North Carolina 28677.
Saturday 10:00 am – 5:00 pm. Sunday 10:00 am – 4:00 pm. 60+ Tables. FREE Admission.
Come early Several dealers have long drives or early Sunday evening plans and leave before 4:00.
Contact: Bill Brewer
704-450-1639